Strategic priorities
Our goal:
Improving Myanmar's IT infrastructure to reap the potential of a digitalised economy. We focus our efforts on two fronts to become the market leader within 5 years.
1.  Building Myanmar's ICT infrastructure (especially broadband internet) is crucial to developing its economy
1

Almost 93% of Myanmar people do have an active mobile subscription. This is significantly higher than the world average (75%).

They know how they can benefit from being connected to the Internet. We are extremely well positioned to support the development of the 5G infrastructure in Myanmar.

2

However, only 0.24% of the people do have fixed broadband subscriptions compared to 15% on average for the population in the world.

The potential of growth is, therefore extremely significant for Myanmar. This is one of the strategic opportunities for TMH.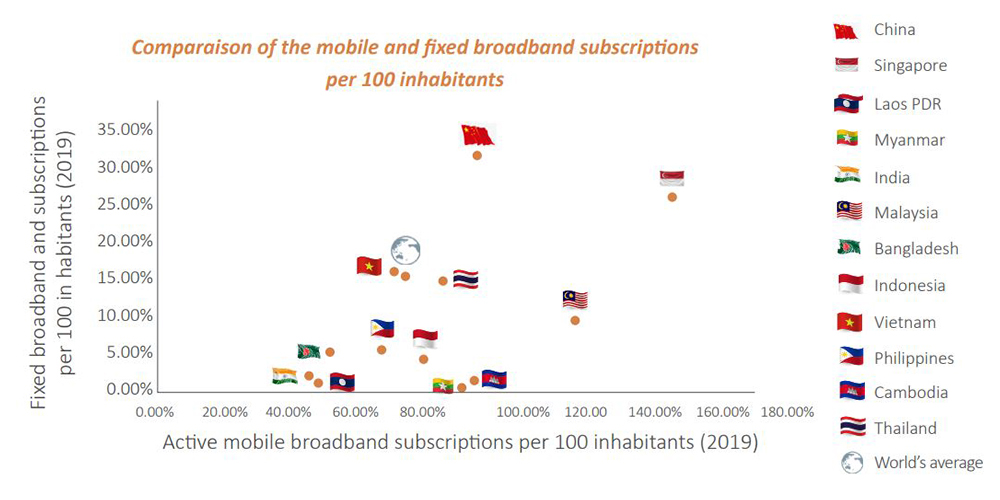 ---
2. People in Myanmar will use the Internet more, which will reshape the economy.  
| | |
| --- | --- |
| 1 | Better IT infrastructure enables economic development: a 10% increase in mobile broadband penetration results in a 2.44% GDP growth in countries like Myanmar. To develop such infrastructure, massive investments will be needed, and reliable service providers, like TMH, are needed to deliver results. |
| 2 | Only 7% of the people using Internet are buying goods and services online in Myanmar compared to 11% in Cambodia and 22% in Lao PDR. Enabling e-commerce will require new services, especially to store and manage data safely, which we consider crucial and where we are investing in developing our capabilities. |