Chairman & MD Interviews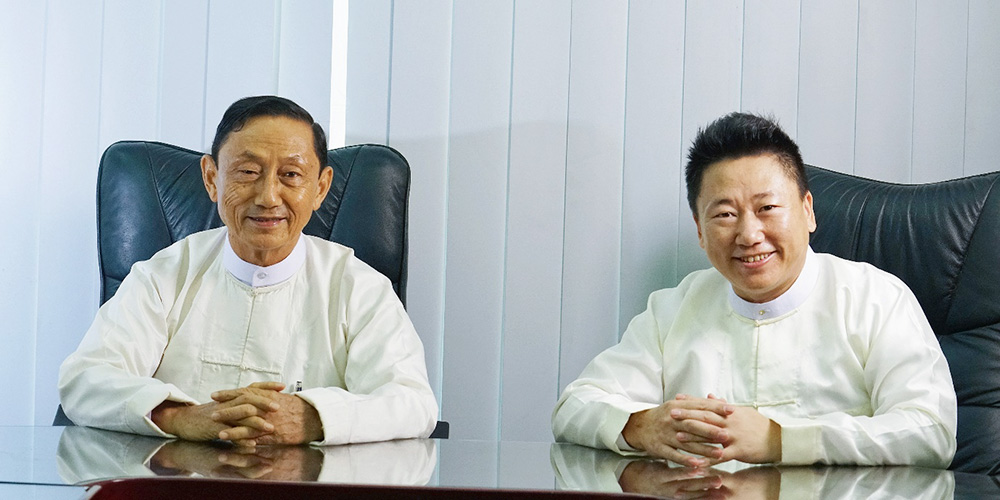 What is your perception of the performance delivered by TMH last year?
Chairman: We are dealing with very challenging market conditions. Foreign investments in recent years mostly drove the expansion of the ICT sector. During FY 16/17, foreign investors poured more than US$ 3 billion in the telecommunication sector. Last year, investments reached only US$ 680 million compared to US$ 901 million for FY 17/18. This drop impacted our industry.
As a consequence, the competition between Myanmar players became fiercer. As a result, some projects were cancelled because of a lack of liquidity. However, we also saw a new type of competition coming: some companies started to dump their price regardless of the quality of their work. These two factors combined impacted our top line: our revenues contracted to MMK 8.93 billion this year. However, the TMH share performed better than the average company listed on the Yangon Stock Exchange, and this is a good signal for our shareholders.
How do you plan to deal with those headwinds? What are TMH's key competitive advantages?
Managing Director: TMH is a mission-driven company. For us, the quality of our solutions, and the satisfaction of our clients are paramount. Whether we work to install, maintain or operate a tower, a network of optical fiber or to produce top-up cards for our clients, in everything we do, we aim to provide them with the best service.
Last year, the satisfaction rate of our clients exceeded 95%, the availability of our installation 99%, and the satisfaction of our people 90%. I am very proud of these results because they are the results of our continuous investment to build a leader in the Myanmar ICT sector. We invested significantly also to develop our assets: they will fuel our growth tomorrow to develop and operate our own optical fiber network. This will contribute to generate and secure steady revenues in the future because our strategy is aligned with the Government strategy, which aims to establish a digital in Myanmar by 2025.
As a result, last year, we started to operate in Yangon, in Lashio and Taungyi areas (Shan state), in Mawlamyine (Mon State) and Monywa (Sagaing). Our company is expanding the footprint of its operations and its customer base. We plan to invest more to expand our optical fiber network in almost all the Myanmar states and regions, which is fully aligned with our vision.
Finally, I am pleased to see that our capacity to manage our internal risks improved last year. Our Internal audit team detected fraud, and they took immediate action. For the risks related to our projects, we are also more selective, and this will help us to allocate TMH resources better, to seize business opportunities faster, and ultimately to reinforce the profitability of our operations, which is a priority for us as our profit margin decreased significantly last year.
You are mentioning a more challenging business environment. What steps do you take to safeguard the shareholders' value?
Chairman: As the Chairman of the Board, my main duty is to protect, develop, and sustain the value of TMH for our 800+ shareholders. Our business requires considerable amounts of investments, and without a long-term approach, we will not succeed to create value.
Our shareholding structure is concentrated: the 10 biggest shareholders own more than 90% of our Company. Therefore, it is important for us to engage with all our shareholders, even those who are holding a few shares of our Company. We need probably to explain to our stakeholders how do we plan to create value in the future, and how we are transforming their Company to make it more future ready.
What perspective for the coming months?
Managing Director: We will continue to invest and to explore new business opportunities. We are building with our strategic partner, a data-center in Myanmar. We want to position TMH not only as a company installing, maintaining and operating communication infrastructure but as a company which can take full advantage of the digitalization of the Myanmar economy.
We will succeed because TMH has the right assets to seize this opportunity: the skills and talents of our people, the loyalty of our clients and suppliers, and the support of our shareholders.