Chairman & MD Interviews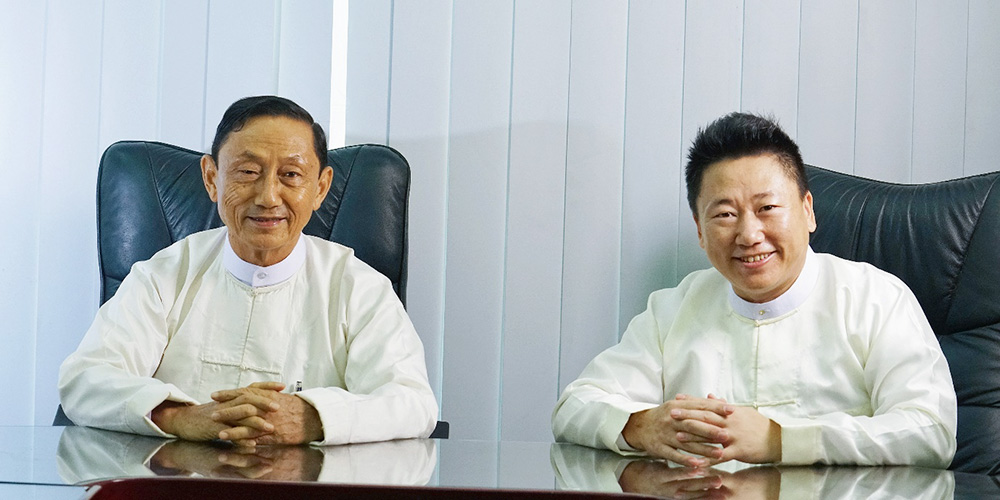 What is your analysis of the current market conditions?
U Myint Lwin, Chairman of the Board
The business environment is extremely challenging for the time being as we are all dealing with the global impact of COVID-19, and Myanmar is no exception. It is important for all our shareholders to understand the environment in which we operate.
The World Bank estimates that the growth of our economy will drop from 6.8% in FY18/19 to 0.5% or even less in FY19/20. Globally, the contraction might reach 5.2% in 2020, the deepest global recession in decades according to the World Bank. It is not easy to thrive when the market is struggling all over the world.
Moreover, last year, according to the MIC's data, the share of foreign investment reached only US$ 300 million for the transport and communication sector, or 5% of the total: the lowest level since 2015. When there are fewer investments, there are fewer market opportunities for us as well.
This difficult environment also impacted the stock market's performance. On average, the market capitalisation of the five companies listed on the YSX on 2 October 2019 lost 8%, and TMH lost 10% during the same period.
As Chairman of the Board, my main responsibility is always to consider the long-term ability of our company to create value and seize future opportunities. In that regard, I am pleased to observe that TMH has more cash available to finance its operations. Why is this important? Because Myanmar needs to invest massively to develop its IT infrastructure, which is crucial for digitalising our economy.
How do you assess the performance of TMH, and what did you do to deliver results during the past few months?
U Thiha Lwin, Managing Director
TMH is working hard to adapt to the new normal. We had to transform our workplace to ensure safe and secure working conditions for our people, and adjust the way we manage our supply chain to secure our ability to source the goods we need to deliver projects to our clients. For instance, we have adapted the way we work together to comply with the rules issued by the Ministry of Health and Sports. Likewise, in 2019, we launched our Thi p p Lar mobile application. We were supposed to fly experts from abroad to help us accelerate the development of this project. Unfortunately, this has had to be postponed.
Our revenue contracted from MMK 8,940 million in FY18/19, to MMK 5,629 million in FY19/20. However, thanks to our collective efforts, we managed to increase the profitability of our operations during the same period: our profit margin rose from 7.1% in FY18/19 to 9.6% in FY19/20 by implementing stricter internal controls to optimise our budget monitoring, and our internal audit team has been instrumental in that regard. I am pleased to observe that we managed to diversify our different revenues streams : being more balanced, this new profile contributes to the resilience of our business model.
On this front, I am delighted to see that our strategy delivers results: our long-term approach with our B2B clients is appreciated. We are now maintaining 45% more BTS at the end of September 2020 compared to September 2019 with as many people: this reflects the progress we have made in improving the efficiency of our operations. Today, the customer satisfaction rate in that segment is above to 99%: TMH is seen as a reliable and trustworthy partner.
Likewise, our integrated approach is relevant: when we can build an infrastructure for a client or in a specific territory, we are usually successful in maintaining and eventually operating this infrastructure: this was the case last year in Kayin, Mon and Tanintharyi.
Finally, we owe it to our employee to provide safe and secure working conditions, and the COVID-19 has indeed been a serious test. On the safety front, we recorded a single incident: one of our employees had a motorbike accident when he was commuting between work and home. We must pay attention to how we work together every day to avoid this kind of unfortunate situation. Everybody at TMH must get back home safely.
As Chairman of the Board, how do you assess the Board's performance?
U Myint Lwin
The main responsibility of the Board is to safeguard the sustainability of TMH. We always consider how our company will be able to deliver long-term value for all our shareholders and stakeholders. As I said before, we understand that some shareholders expected to receive a dividend last year. However, our responsibility is to develop the value of our company. On that front, the value of our equity grew from MMK 16,074 million in FY18/19 to MMK 16,260 in FY19/20. I am also pleased to share that the Board approved the payment of a dividend for FY19 and FY19/20.
Furthermore, last year, the Board decided to reinforce its corporate governance framework. This is a step towards ensuring that the Board of Directors, elected by the shareholders, acts in their interests. The Board worked, with the support of a third-party, on drafting a new Board Policy and Code of Conduct to improve our management of potential conflicts of interests. We also considered how the current Directors might serve the Board and TMH's shareholders more effectively. Should the shareholders trust our opinion, we are confident that it will help to strengthen the quality of our decision-making process.
All these changes are concrete steps in the right direction. I am pleased to observe that the quality of our corporate disclosure has improved – TMH's progress in the 2019 Pwint Thit Sa report is encouraging, and we should continue our efforts. In the long run, it will help us attract new investors and shareholders. Following Notification 1/2019 issued by the SECM to allow foreign participation in listed companies on the Yangon Stock Exchange, TMH had one foreign shareholder as of 30 September 2020. This number is growing, and we aim to have at least 4.5% of our shares held by foreign investors.
Let me also express my satisfaction regarding how we ensure the integrity of our activities. We have a zero-tolerance approach to corruption. Our internal audit team plays a key role here: we identified two potential frauds last year, and the team investigated these incidents quickly and thoroughly, identified the necessary corrective actions, and regularly informed the Chairman of the Audit, Compliance and Corporate Governance Committee.
What are TMH's plans for the future?
U Myint Lwin
The current pandemic reveals the fragility of our economic fabric. It is fascinating to observe that, at the same time, digitalisation is shaping the future of our economy, and our business at TMH is precisely to enable this shift.
Myanmar is currently lagging behind its regional peers. According to the latest data published by the ITU, we have 0.24 fixed broadband subscription per 100 inhabitants (versus 8 in ASEAN) and the international bandwidth usage per Internet user is 6,882 bps (152,686 bps in ASEAN). The gaps are extremely significant, and reflect the growth potential for our businesses to connect more households and business to the Internet: we could serve four times more clients in the near future, and when we look at our track record we are now serving 149% more clients in FY19/20 than in FY18/19.
Furthermore, with the future rollout of 5G technology, we will need to install more tower to cover the territory, as 5G technology requires denser coverage than 4G. TMH is uniquely positioned in this segment. Our close ties with 5G leading companies are strong assets.
This infrastructure is crucial to the new economy. With its Myanmar Digital Economy roadmap, the government has laid out a clear vision for Myanmar's future. TMH will actively support the delivery of this ambitious plan. Indeed, we are already moving forward: in 2020, we reinforced our relationship with MPT and worked with them to launch MPT Money. This move is important for us, as people will use this kind of service more frequently, which means that the revenue generated by our top-up cards business will decrease. Hence, moving forward is essential for us.
Of course, to deliver results, we must invest in our people and develop their skills. In FY19/20, we trained more people than ever and provided each trainee with more training hours. We will continue to ramp up our efforts on this front and engage with our different partners closely to develop their technical expertise. The future of TMH relies entirely on our people.