Chairman & MD Interviews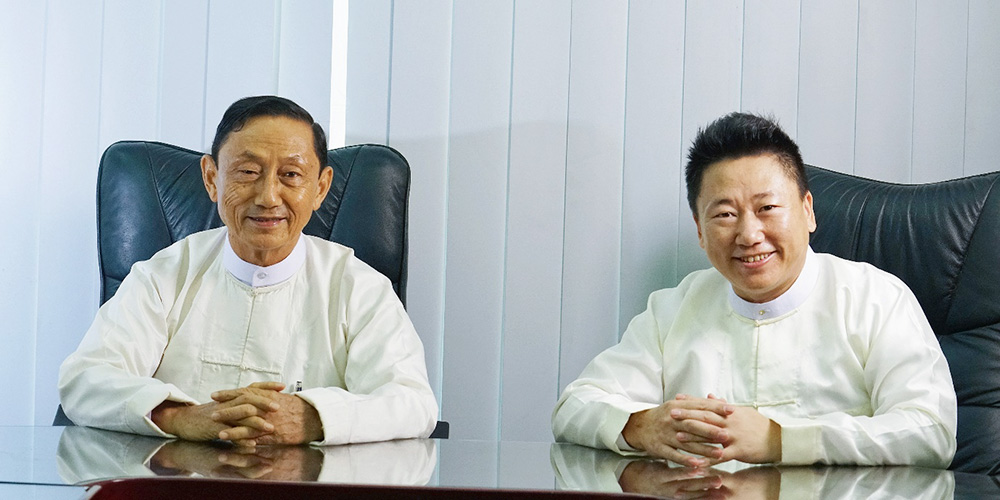 The recent months have been very challenging for businesses. How did TMH navigate them?
U Myint Lwin, Chairman of the Board
Doing business in Myanmar is more challenging than ever as we have to deal with the compounding impacts of political, economic, health and humanitarian crises. The current situation is bleak: Myanmar economy is expected to contract around 18 per cent in FY20/21 according to the World Bank; UNDP considers that nearly half of the population could be living in poverty soon; and in July and August 2021, COVID-19 claimed too many lives. The magnitude of the impacts is extreme; and businesses operating in Myanmar struggle to make informed decisions when uncertainty is now the norm.
During these difficult times, we knew it was essential to safeguard the trust of our stakeholders to protect the assets and the value of our company. This is why the Board continuously prioritised the safety of our staff and contractors. Their safety and wellbeing is a condition to serve our clients and therefore create value for our shareholders.
Despite these very turbulent market conditions, the value of TMH's stock contracted only by 2% between October 2020 and September 2021, when listed companies lost 7% of their value on average (see table below). Likewise, thanks to the management's effort, our company has today more cash available to finance its operations: TMH had MMK 4,440.41 million available at the end of September 2021 compared to 4,239.61 million a year earlier. TMH's ability to safeguard its assets and shareholder value is demonstrated; it also highlights the quality of its management: our company is well-positioned to recover responsibly.
In this difficult business environment, how do you analyse TMH's performance?
U Thiha Lwin, Managing Director
We aim to build a sustainable and resilient company. Therefore, we pay a lot of attention to shaping a sound corporate culture: it helps us focus on what matters.
We realised it was important for our employees to have a sense of purpose after February. When many things were uncertain, we clearly communicated why our business was essential for building a better society in Myanmar and how we expect our people to act and behave.
The political and health crises impacted our activities: our supply chain was disrupted, the planning of our operations had to be constantly updated to always prioritise the safety and security of our people. As a result, our revenue dropped by 47% in FY20/21 compared to FY19/20, and our revenue distribution for FY20/21 was similar to FY19. However, to safeguard and preserve TMH's ability to operate, we implemented a rigorous discipline to avoid all non-critical expenditures. Unfortunately, despite all our best efforts, we recorded a loss of MMK 587 million last year, representing a negative profit margin of – 19.5%.
However, the resilience of our operations is remarkable. We managed to maintain 20 more BTS; likewise, our customer base for our fibre services increased by 47% in FY20/21 compared to FY19/20. The quality of our people, their dedication and commitment made it possible. As a result, they deliver high-quality service to our clients, and their continuous loyalty is a clear signal of their confidence.
Last, the safety and security of our employees are paramount. We managed to improve our performance last year: our frequency rate by 6%, we worked extremely closely with our clients to ensure that it was always safe for our people and contractors to work.