Business Review
Highlights
Our team of 250+ employees maintain 939 telecom towers, 20 more compared to FY19/20.
Their contribution is essential to connect 495,000 people in Kayin, Mon and Tanintharyi.
The infrastructure we maintain is highly available: more than 99% of the time.
The revenue from our BTS operations dropped from MMK 2,012 million in FY 19/20 to MMK 1,898 million in FY20/21.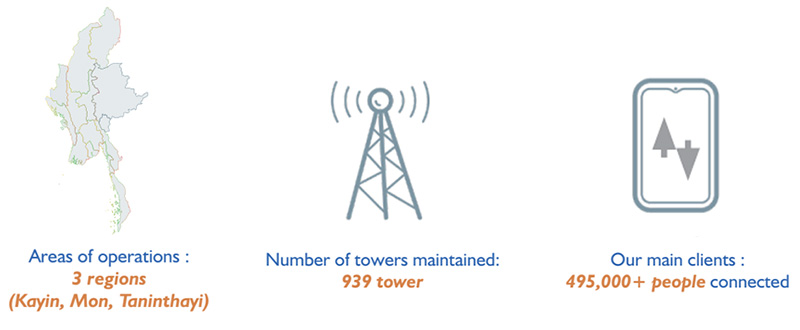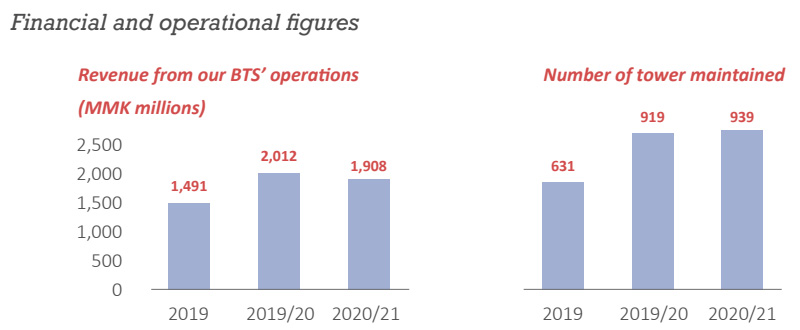 Teamwork is essential to deliver our services on time, quality and most importantly to ensure that everyone can go back home safely.
We continue to serve MPT and China Unicom, our long-term clients. Our collaboration became even more synergetic as we have work more closely to assess continuously the situation to ensure the safety and security of our staff and contractors. Please do not mention our customers' name.
Our client satisfaction level is high: over 99%.
Highlights
250+ employees work to install and maintain 4,000 km of optical fibre in various cities across Myanmar for our affiliate Myanmar GT Broadband. We have installed 9,500 km of cables to connect the optical distribution boxes and our clients.
We served 40,850 clients in FY20/21, a 50% increase compared to last year. Our clients are located in Lashio, Maw La Myaing, Monywa, Taunggyi and Yangon. Their satisfaction rate is above 95%/
Our bandwidth capacity rose from 40 Gbps in FY19/20 to 50 Gbps last year.
We did not record any income from our fibre operations in FY20/21.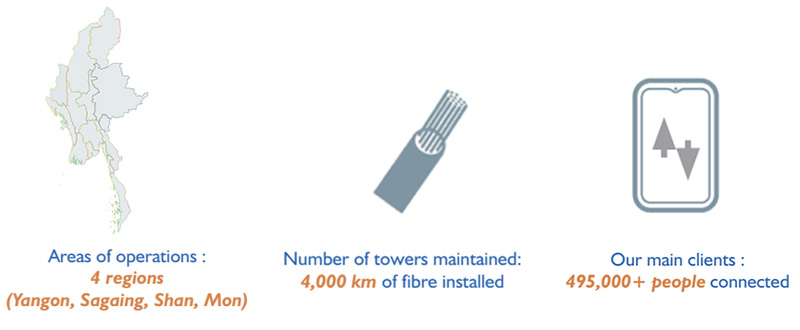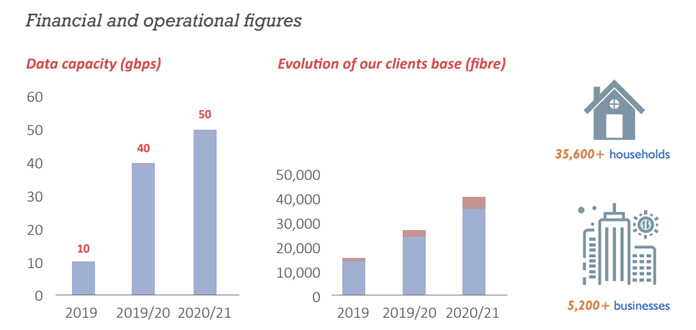 Highlights
TMH operates 2 sites manufacturing prepaid top-up cards. We produce various types of cards for our client. Last year, our 100+ staff delivered 22.8 million cards, a contraction of 50% compared to FY19/20 as our main client decided to order more from abroad.
The revenue generated in this segment reached MMK 623 million in FY20/21, compared to MMK 974 million in FY19/20.
Our team engages 3,600 agents in Yangon and Shan State. We rely on our network of 12 branches to distribute and supply top-up cards to 3,600 resellers in two areas: in Yangon East-Region and Northern Shan State. Our sales force covers 15 townships.
We ensure that our team and resellers comply with our client's requirements and guidelines. Our client regularly audits the quality of our services.
Financial & Operational figures
Key Figures